Are you a parent or an elementary teacher? This may be of interest to you.
You must have experienced that virtual learning is not satisfactory. Lockdown learning loss has resulted in gaps in children's math concepts. At the request of parents and teachers, Navnirmiti Learning Foundation is initiating a curriculum-based – concept-wise workshop series for students of Class–1 to Class–8. Parents and teachers are also welcome to join.
We will cover the entire curriculum for each class, divided into small modules. You have a choice. You can participate in a particular concept as well as for the entire program.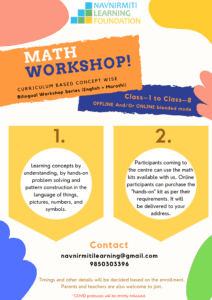 As the lockdown unlock process is started, this is a good chance to learn Math in an OFFLINE And/Or ONLINE blended mode.
Workshops will be bilingual (English+Marathi). Children will work in a group (class 1+2, class 3+4, class 5+6 and class 7+8) , students of two classes together at a time, to tackle the learning gaps.
Timings and other details will be decided based on the enrollment.
Key points of the workshops :
Learning a concept by understanding, by hands-on problem solving and pattern construction in the language of things, pictures, numbers and symbols.
Children coming to our centre will use the math kit available with us. Those attending offline can purchase the "hands-on" math kit items as per their requirement. It will be delivered to your address.
What you will get from the workshop :
New approach of learning Math by hands-on understanding

Confidence that l Can Do Math.

Personal guidance when you ask for it.

Worksheets for practice and mastery.

You will get notified about all the workshops from time to time.
Join Over
10,000 Students, Teachers & Parents
Enjoying Maths
Become Part of NLF family.